"…the River in Which We Sink or Swim…"
April 15th, 2010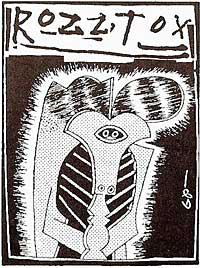 Bill Griffith recently offered his Top 40 List on Comics and their Creation and it got me thinking about the influence of his generation—the RAW/Arcade generation you might call it—not only on comics but on popular culture generally.
If there's one document that sums it up beautifully, it's Gary Panter's funny, screwed-up, poetic, and profound Rozz Tox Manifesto from 1980; a call for artists to infiltrate the lumbering machines of popular culture and start messing with the gears.
Through twisted masterpieces like Panter's designs for Pee Wee's Playhouse, or his friend Matt Groening's long-running, society-scouring The Simpsons, it's become clear in retrospect that these guys were (at least partially) dead serious about many of these ideas.
As of the last ten years, the idea of infiltrating mass media can seem almost redundant. The great mass of media is increasingly generated by a decentralized confederation of unaffiliated knuckleheads like you and me. But as long as there's a hellish laugh track still running somewhere, Panter's virus still has work to do.