The Pacific is a Big Ocean
April 29th, 2010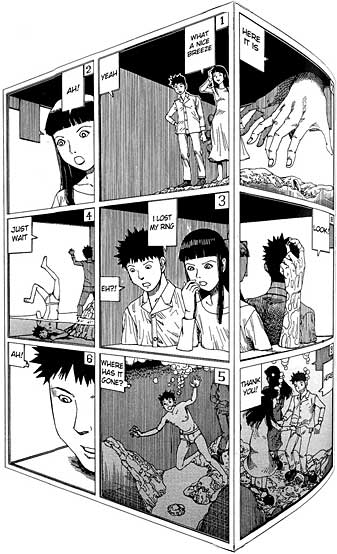 Shintaro Kago is a Manga artist you're unlikely to see at your local Borders or Barnes and Noble anytime soon, but boy, what I wouldn't give for a collection of his work in English. Some of the craziest experimental comics since Art Spiegelman's early comics in Arcade (later collected in Breakdowns).
An anthology or two have included short pieces, but because of the pornographic nature of a lot of the images, we're stuck plowing through scanlation sites to see this master at work.
Rather than point to specific sites, I'll just encourage you to browse Kago's various scattered images and click on whatever looks cool, but do search for Kago's brilliant "Abstraction" (NSFW!) for a real mind-bender.
Here's an interview with the guy. And if you want to ask the Interwubs to translate it for you, Kago has a blog.