I Couldn't do it, Could You?
June 15th, 2010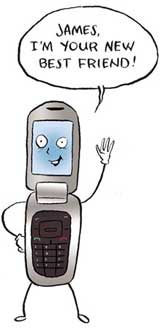 For those who didn't follow the link in Friday's post, James Sturm has quit the internet for four months and is writing about it at Slate.
It's not exactly Thoreau territory. He's still using his phone (now more than ever!) and still part of the electronic landscape in other ways. He's even talked to ABC about it. But his observations on the process are illuminating and his illustrations for the article are a delight.
James and I have had some vigorous debates about the value of information technology over the years. It's no secret that I'm pretty happy with the way things are going. But a part of me wouldn't mind following him for a while.
I'm increasingly aware of my own addictions. After answering as many emails as I can in the morning (never enough!), I'll sometimes close my laptop and put it away to avoid the temptation of checking for new mails until I get at least a few hours of drawing done on the main machine (yeah, I use a local client for email—not living up to my surname yet). Sooner or later, I may have to start unplugging the modem for part of the day too.
If James inspires you to try something similar, go for it. But you might want to wait until his Slate reports are done, since those are available only on…
Yeah.