Comics Around the Pacific
June 18th, 2010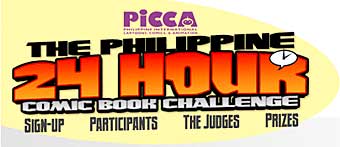 Although the official 24-Hour Comics Day won't be until October 2,  it looks like artists in The Philippines will be sitting down to draw on Saturday, July 17 at 9:00 am. in preparation for PICCA. Good luck to all participants!
Only a few days later, across the Pacific Ocean, Comic-Con will be starting here in the U.S.
Since I'm deep in the middle of my own project right now and not ready to show anything yet, I'll be on four panels focusing on other comics creators this year: Friends Kurt Busiek, Larry Marder, James Sturm (heard a lot from those names on the blog recently) and a tribute to the great Will Eisner.
I'll have an official announcement once the schedules are online. No table this year. Just happily wandering.
Ivy has written up her feelings about the prospect of Con moving to LA or Anaheim and why she's resolved to only attend comics panels this year. We both agree that it would be a depressing development for Con to land in LA, especially because the glut of Hollywood programming is the reason Con is so overcrowded in the first place. Guess we'll see what happens.