#23… #16… #12… #11… #9… #6… #5…
July 19th, 2010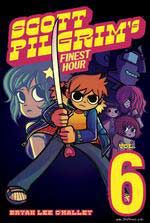 Yeah, I know I talk about this book too much as it is, but when you read phrases like "midnight releases" you know you're looking at something special.
Vol. 6 was #23 on Amazon this morning. Not too shabby.
In other news (although, I suppose the photo is related), I need to link to this story, just for the the title.
[Edit to add: As of the following morning, it's been holding steady at #12 [UPDATE: #11!] [UPDATED UPDATE: #5!!] surpassing ALL Twilight books!]