See you at COMIC-CON!
July 20th, 2010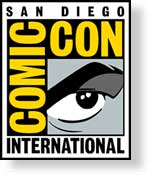 Those panels again:
Thursday 11:30-12:30
Spotlight on Kurt Busiek— I moderate a panel with my old pal Kurt, the guy who got me into comics in Middle School. Room 8
Thursday 1:30-2:30
Beanworld and the Leguminous Life of Larry Marder!— I moderate another great panel with another great friend and artist. Room 4
Friday 4:00-5:00
James Sturm and Scott McCloud, A Center for Cartoon Studies Conversation: Understanding, Making, and Teaching Comics— I join James Sturm for… Well, I guess the title tells it all! Room 7AB
Saturday 11:30-12:30
Will Eisner, The Dreamer— Several of us take the stage to talk about the life and work of one of the greatest comics artists of all. Room 4
More detailed descriptions here.
Back to regular blogging Tuesday, July 27. Have a great week, Everybody.