One Down, 9,999 to Go…
August 3rd, 2010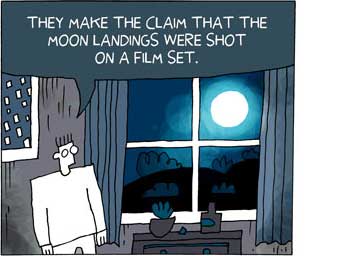 Darryl Cunningham demolishes the myth of a Moon Landing "Hoax" point by point.
Now on to all the other crazy things people con themselves into believing. It's one hell of a long list, but at least we have a lot of idle cartoonists to chip in.
When my graphic novel is finished (with luck, in 2012), I've signed on to do another non-fiction book, and I wouldn't mind coming to science's defense on another topic the way that Cunningham has for this one.
[ETA: Carl in the comments thread points out that Cunningham has also taken on vaccines and homeopathy so I guess that's three down, 9,997 to go.]
[via Spurge]