The Scattered Evidence of Emily Carroll
November 8th, 2010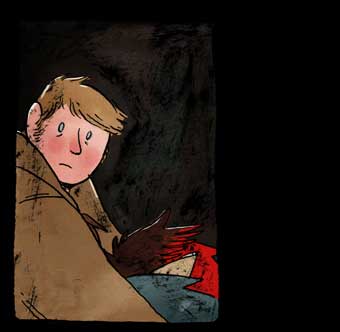 In the last few days, I received an email from Tim Kinnaird and several tweets alerting me to a haunting new online comic called His Face All Red.
See if you can carve out a few minutes without distractions to read it. You'll be glad you did.
The artist, Emily Carroll, is a new name to me, but she's obviously been at this for a while and her storytelling has the confidence of a veteran. I'll be eager to see what she does next, but looking for evidence of what she's done in the past has proved frustrating.
Notice how I didn't add a link to her name in the above paragraph? That's because I wasn't sure which link to pick. She has a Livejournal. She has a Twitter handle. She has a Blogspot account. She even has her own domain, but if you go to the main page it's just a "Coming Soon" page.
And none of them give the reader more than random, scattered evidence of who she is and what to expect from her in the future.
Carroll is the real thing. She deserves a more consolidated online presence.
She deserves some noise.