The REAL Future of Comics
November 9th, 2010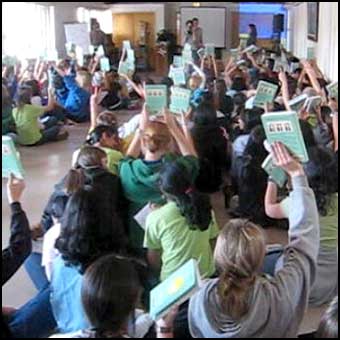 New York based Raina Telgemeier recently blogged some adorable photos of school and library visits she did here in California on behalf of the terrific "dental drama" Smile. I defy anyone to read the post and not smile just as widely as Raina and her growing family of young readers.
Reading it drove home for me again (see previous post) what an enormous opportunity every cartoonist has to translate their own experiences and interests into comics and find or even create new readers, based on the subject of that work.
One reader emailed me from a Therapy Center simply because she'd heard there was a comic explaining Crohn's Disease (there is; it was a 24-hour comic by Tom Humberstone who suffers from the condition). Crohn's disease affects between 400,000 and 600,000 people in North America alone (thanks, Wikipedia). Why the Hell WASN'T there a comic about Crohn's disease until now??
Whole markets can be created out of thin air when the right subject strikes. Gan Golan (one of my 2003 seminar students at MIT) made a name for himself collaborating on the political parody Good Night Bush in '08. Now he's now teamed up with several other great talents to create Unemployed Man and he's had no trouble getting coverage on CNN and a zillion other press outlets—not because of some surge in interest in the comics artform—but because Gan and co-creator Erich Origen have zeroed in on a topic with a potential target audience in the millions.
The beauty of this kind of outreach is that it only adds to the base of comics readers, and rarely do these efforts cannibalize each other. Barry Deutsch's fantastic orthodox Jewish adventure Hereville isn't competing for readers with the Bertrand Russell stories in Logicomix, or with XKCD, or with Persepolis. Each one is its own little community of readers, some of whom may have never read a comic before, but ALL of whom are now one comic deeper into this medium we'd all like to see grow.
Are you a cartoonist?
Are you passonate about something? Anything?
Are there others that share your passion?
Do those "others" number in the thousands?
Tens of thousands?
Millions?