Notes from Hibernation #3
May 26th, 2013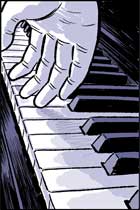 Still working hard on the graphic novel through this fall, so this blog will continue to be pretty quiet for a while. Panel at left from a recent page (yeah, I know, not much to go on!).
If you're curious about the GN, here are the posts that've mentioned it so far (scroll to the bottom to read in order—it'll look like nothing's happened at first, but that's just 'cause this post is one of them). Feel free to laugh at me for my original guesses at the completion date. (It's taken, um… a bit longer.)
I've updated the sidebar regarding some upcoming trips. Norway, Comic-Con, Belgium, Ball State, and Mount Holyoke, all in the sights for summer and fall; with more to come in the spring.
Missed between updates was a fun visit to Blizzard Entertainment, just last week. Thanks to the whole gang there for a great pair of events.
As always, I'll be posting random thoughts and links mostly via Twitter. Follow me, and you can be annoyed on a more regular basis.
Have a great spring/summer/fall. I'll have plenty to say when I crawl back out from the shadows later this year!