Notes from Home
June 2nd, 2009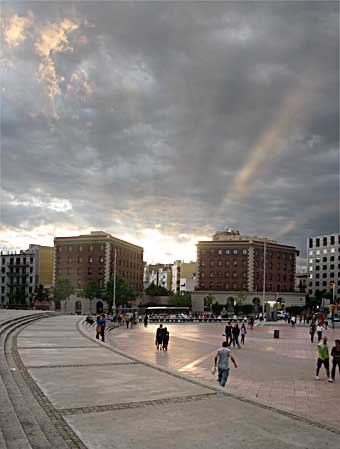 Back from Barcelona with just a few minutes before I return to drawing, but wanted to reiterate my thanks for a great visit to my gracious hosts and all the cool artists and writers I hung out with.
Despite seven hours of signing, we never ran out of fans until the very end which was really cool (though my lines move slower in Europe for various reasons). Didn't run out of reporters either — good news for my excellent Spanish publisher Astiberri.
Will look forward to heading back to Spain in August with Ivy this time. Watching the mesmerizing John Adams on the airplane, I really felt for John and Abigail as Mr. A went to Europe alone, then years later with Abigail. Got a bit teary-eyed, though that was probably the extra oxygen as usual.
[Photo from Sunday night's postcard-perfect sunset]