A Freebie from Harper
June 4th, 2009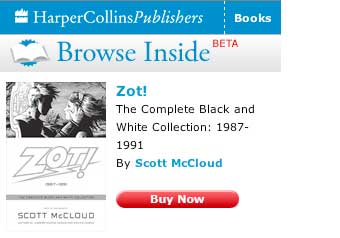 Barry Deutsch notes that HarperCollins is now offering the first 100 pages of our recent 576 page Zot! Collection for free online. This is a good thing.
There was a time, not that long ago, when publishers were reluctant to offer any significant amount of published work online for free. Clearly though, it can help spread the word about good stories and art. Check out the comments from yesterday's post regarding Carol Tyler's 10-page preview for a demonstration. 
I remember when Understanding Comics was first published in 1993 and Kitchen Sink sent me to a trade show to promote it. We'd sent out mailings, we'd taken out ads, but the best promotion for the book we ever did was simply handing out a thousand copies to retailers.
Covers sell comics. Ads sell comics. But nothing sells comics better than the comics themselves.