The Letterers
November 3rd, 2009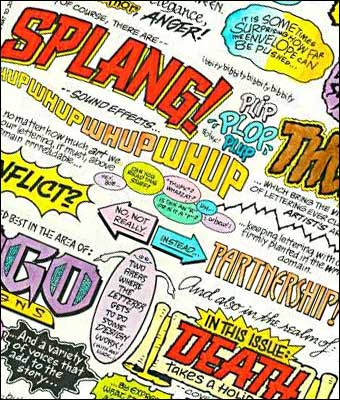 The celebrated letterer Todd Klein was interviewed last week. Some find hand lettering tedious and prefer using fonts, but there's no question that Todd's hand lettering was a thing of beauty no font will ever match (though even Todd himself is working increasingly in the digital realm).
Still, after reading how he got started, I had to laugh at the thought of Todd on the job at DC for the first time (doing the sort of correction and paste-up in the production department that I would later do in the desk next to Todd's in 1982) thinking to himself: "Boy, this sure beats putting together instruction manuals for air conditioners!"
Todd lettered Zot! #1 and did the final version of the Zot logo. All but two of my subsequent comics, through Understanding Comics, were lettered by the great Bob Lappan. Since then, it's been all fonts for this control freak, but I still consider the approach a work in progress, and there's always a chance I might hand letter a (probably short) comic in the future.
I do still hand letter my rough layouts and try to make them readable for my editors. Even on the Cintiq tablet, zoomed in at 800 dpi to save my wrists, my technique is still the similar to what Todd taught me all those years ago.
(link via Dirk)