That Hand on Your Shoulder
March 22nd, 2010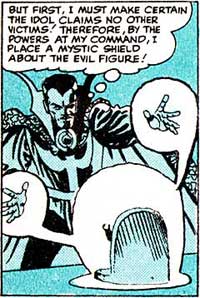 Interesting article by Joe McCulloch at Comics Comics regarding the scarcity of old-fashioned thought balloons in todays genre comics and elsewhere (via The Beat).
McCulloch pulls out a few examples of legitimate uses for the bulgy Edsel of comics iconography like Mazzucchelli's picto-bubbles in Asterios Polyp, but he's most enthusiastic for its streamlined descendent, the caption-style interior narration—especially the floating word bursts found in some manga.
McCulloch does a good job of enumerating the perceived advantages of thought captions (with or without borders) over balloons, but I'd like to toss out one more possibility.
The question I find most interesting is why do traditional word balloons seem more patronizing by their very nature? In Ware or Mazzuccelli's hands, that quality is ironically re-channeled, but I think it's still there. In the Shirow Miwa example that McCulloch offers, I think it's there too.
In fact, I'll go out on a limb and say that any thought caption made into a thought balloon is going to take on that patronizing quality, even if the phrasing is identical. It isn't just the hokey word choices like in the above Ditko Dr. Strange panel, it's the graphic device itself.
I don't even think it's the shape. The Shirow example McCulloch offers is just a jagged little slab—nothing goofy—but it still carries that spoon-feeding connotation for me. Even if it was a caption-like rectangle with square bubbles pointing to the character, I think the effect would be similar.
The important difference for me is that a thought caption—with or without borders—embodies each thought in a way that encourages us to assume ownership of it as we read. We literally bring each sentiment into existence as a thought, creating an instant bond with the character.
The thought balloon, regardless of shape or style, just by virtue of its pointer, brings a third party into the relationship: the author, gently putting his/her hand on our shoulder and pointing to the face of the thinker with the words "he thought." Maybe thoughts are just too private for that kind of parental intrusion.
The fact that McCulloch reserves his most enthusiastic endorsement for modern Manga's floating thought bursts feels right to me. If there's one thing Manga has been doing right for years, it's creating in readers a sense of participation in the lives of its protagonists. Participation in their innermost thoughts is a logical next step.