Talk, Rock, Kick, Ass
April 19th, 2010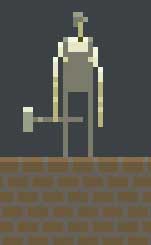 Catching up a bit:
Liked the visual essay Less Talk More Rock on BoingBoing last month. Good approach to tackling a problem in games that assails every medium; how to reconnect with core principles and the unique potential of an art form in the face of commercial dilution and the imported sensibilities of other media.
Getting "back to basics" can be much more than just turning back the clock. Taken in its more profound sense, it's also the key to moving forward.
Saw Kick-Ass last night. Not bad, though our crowd might have been happier if the movie had just been called Hit-Girl (Yeah, yeah… balanced round-up of that little controversy here).
I confess to not having read many of Mark Millar's comics yet, although I've noticed that every time he comes up, someone always seems to be angry at him. What's that all about?
For me, the coolest part was seeing THE preview in a theater for the first time, and hearing SP name-checked in the movie.
Oh, and the Sparks song!!