Well, That's not even Subtext…
April 22nd, 2010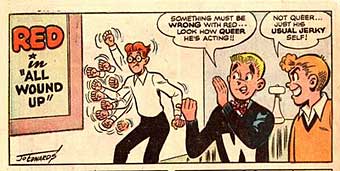 Rich Johnston has a snappy write-up on the big announcement that Archie Comics is introducing its first gay character.
In 2010.
Let that one sink in for a moment. (Fun fact: Archie first appeared in 1941).
Best of all though are the clips at the bottom of the article, with some very easily "misread" panels and covers from Archie Comics' history, including my favorite above.