Flight 7 Preview
June 24th, 2010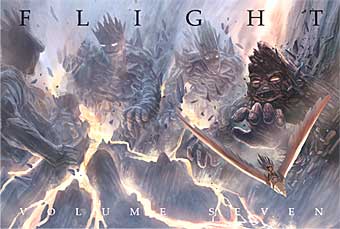 Via Kazu's blog comes word that the Flight 7 preview is up. And—no surprise—it looks gorgeous.
Volume 7 will be the last penultimate(?) Flight (at least in its current incarnation). Volume 1 came out in July of 2004, only six years ago, so I might be overreaching to tag this with "Comics History," but it feels that way to me.
One of my favorite memories of Comic-Con 2004 was when the boxes of Volume 1 arrived at the Flight booth and I ran over from our funky, inflatable furniture-filled booth nearby, in time to see them opening the first one with a box cutter.
I asked if I could buy the first copy. Someone (probably Kazu himself) offered to give me a copy since I'd written an afterword, but I said Hell No, I wanted to buy the thing and insisted on giving them a twenty.
Nobody cares who gets the first "comp copy." I wanted to be Flight's first paying customer, and so I was.
A small moment in comics history, maybe, but one I'll always remember fondly.