Doodle 4 Google
January 24th, 2011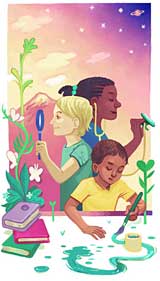 Many of you may have already heard the news last week about Doodle 4 Google, and one of the best-known companies on Earth hardly needs me to herald their press releases (well, maybe that once), but this looks like such a fun contest I want to make sure you all get the details—especially if you have kids.
I'll be one of nine guest judges (along with Whoopi Goldberg, Jim Davis, Jeff Kinney, Beverly Cleary, and some other truly cool people) and there'll be an exhibit of the 40 finalists at the Whitney this spring.
I love kid's art. DC had me help judge a cereal box competition many years ago and it was one of my fondest memories from that period. I can't wait to see what America's kids have in store this time.