Merlin Goes Android
June 28th, 2011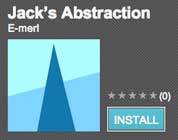 The premiere mad scientist of webcomics Daniel Merlin Goodbrey has released a new comic for the Android Market called Jack's Abstraction.
I'm in the iOS walled garden for now, so I can't comment much beyond that, but if you've got an Android device, I'm sure it'll be worth it (and hey, it's free).
And for those of you who do read comics on Android devices, I'd love to hear your thoughts on the market's potential.
Oh! And sort of on topic: It occurs to me that though I tweeted it while in Norway at EuroVis, I don't think I linked from the blog to Google's latest comics adventure, a fun little explanation of Google Correlate.