That'd be 63 Years in Internet Time.
August 6th, 2009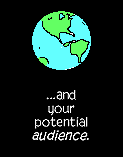 The Webcomic Overlook takes a look back at a 9-year-old list I wrote of 10 suggestions for beginning webcartoonists. Won't quibble with the article's conclusions (whether I agree or not, they're reasonable points) but it's a brief, funny look back at a very different time — literally the Web's first decade (post-Mosaic).
[via Journalista]
In other news: OMG, even his bees are winning awards now.