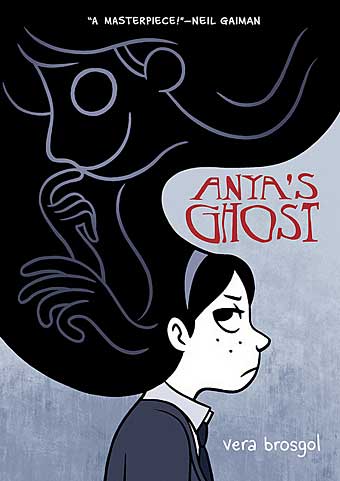 More than a year and a half ago, I wrote about four upcoming books and promised to post updates as each became available.
Those books were David Small's Stitches, David Mazzucchelli's Asterios Polyp, Hope Larson's Mercury, and Vera Brosgol's then-untitled graphic novel for First Second.
Well, the first three came out to well-deserved acclaim, and now at last that fourth one—quite possibly my favorite of the whole bunch—is finally available for pre-order. And it has a name!: Anya's Ghost.
Brosgol points out on her blog that now's the time to tell your local comics store to put in their orders through Diamond. I can very highly recommend this one (as does a rather famous Neil on that cover, above, in case you didn't notice).
Vera Brosgol is the kind of cartoonist I want to be when I grow up, and I know several other cartoonists who feel the same way. Get a copy of Anya's Ghost for yourself and find out why.